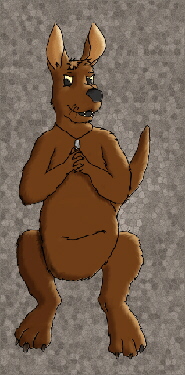 Greetings! Ba'ar here with the latest in a series of articles about the local Spindizzy citizenry. Today we've scored a coup! Morticon, local jackanapes Wallaby and SED leader has agreed to take time out of his busy schedule to talk with us!
Morticon sits at a swivel chair. "Hello."
Ba'ar growls, "Greeting Morticon....Thanks for taking time out of your busy schedule for the interview."
Morticon grins, "Of course. I'm quite happy to let my adoring public know more about the unseen me."
Ba'ar grins "Unseen you? The people see ALOT of you. But seriously folks......"
Ba'ar growls, "Okay let's start. Our readers know about you and some have even met you 'in the pelt' as it were. For one thing, how long have you been here in Spindizzy?"
Morticon says, "I was created as a side character (originally just for a short section of an RP. I was supposed to be killed soon after) sometime in 1997, pre-SpinDizzy, which puts me on TF&F. My evil could not be contained, and I was soon made into a real character and became unstoppable!"
Ba'ar nods "I understand fellow SEDer Mouser is also from TF and F."
Ba'ar growls, "I understand you're from a lab. How did this come about? How did you come to be in Spindizzy."
Morticon says, "I didn't really know Mouser back then, as my real SED involvement wasn't until SD. I am actually a prototype for a military project (who could ever suspect that cute little animals are trained killers?) and escaped from the lab of OzBioTech (OBT, for short. This is where my infamous dog-tag came from) during an infiltration by Shadowstalker, who was attempting to blow up the lab at the time. Unfortunatly, due to the demise of TF&F, how I got here (survived?) exactly is hidden in the mists of erased worlds."
Ba'ar growls, "Speaking of the SED......."
Ba'ar growls, "Our readers know about our organization the SED (Society of Evil Doers) and know of its goals (to take over the world). How would this improve things? "
Morticon thinks...
Morticon says, "Do I have to list ALL the reasons? Well... the best parts of my world domination scheme is that everyone would have something to do. Whether it's extracting material from the SED mines, or building a monolithic structure in dedication to me, all would lead fufilling lives. Petty things like arguments would be a thing of the past. Why, some of you, especially those who join the SED, would live in luxury all their days. Otherwise benefits include a highly organized world, no crime, and ninja sightings would be a common occurance. And of course, to give those who can't do hard labor things to do, I'll create a beaucracy. WHat could be more fufilling then to fill out papers?"
Morticon says, "And a side note, we will become even more technologically advanced. I'll sponsor research into various things that interest me, like a banana-free world."
Ba'ar growls, "Why would you want a Banana free world? Some furs (like myself) like a banana every now and again.."
Morticon says, "Well, frankly, it's to annoy the fruitbats. It is well known that wallabies and fruitbats, as well as centaurs, have never gotten along."
Morticon smirks.
Ba'ar growls, "If our readers wanted to join the SED, how could they go about doing this?"
Morticon says, "Glad you asked! They need to go to the SED FAQ on the SpinDizzy.org web site. That will fill them in. I'm also always looking for experimental subjects, willing or otherwise ::evil grin::."
Ba'ar growls, "Any special qualities that you're looking for in a new SED recruit?"
Morticon says, "Contrary to popular belief, I need them to be intelligent. An unfailing loyalty is also a plus, as well as being able to do things without me micromanaging. I mean, while I'm in the middle of building my next doomsday machine, I can't be telling a minion how to capture Sunshine!"
Ba'ar nods.
Ba'ar growls, "Here's another thing... What are you most proud of as SED chief?"
Ba'ar growls, "What was the SED's finest hour"
Morticon blinks.. "Oh my... a toughie.... I actually done hundreds of plots over the years, literally (small or otherwise)... Hmm..."
Morticon says, "A few that stick out in my mind (but not nessecarily the *best*) are..."
Morticon says, "The original SED Dinner party, the one that started it all. It had everything!"
Morticon says, "The day I burned the letters SED into the map. I wonder how many noticed."
Morticon says, "My various kidnappings. When I kidnapped Cassie, I even got them to pay a ransom!"
Morticon says, "The time I made Eris a physical body. It paved the way for future projects in cloning, some quite active."
Morticon thinks....
Morticon says, "The Skittle scare. Eating one of my Skittles would turn you into something random."
Ba'ar smiles and nods.
Morticon says, "Can you think of any?"
Morticon says, "I'd have to look through @action news myself... oh yes! When I took over the paper."
Ba'ar growls, "How about the time when you took over @Action News?" Ba'ar nods at Morticon "I've actually read that issue. "
Morticon says, "Alas, I keep no memoirs of my experiances... and I have a remarkably poor memory with my failures. But I try not to do the same thing twice. Or at least not the exact same thing."
Ba'ar growls, "Now back to the SED...tell us...What benefits would they receive as SED members? "
Morticon says, "The planet landing bit was a success I suppose, even if it wasn't evil."
Morticon says, "Food, lodging, health and dental, probably a paycheck, and lots of fun toys! More of this can be found in the FAQ. While the pay isn't great.. the reward comes from the job itself.... getting to do evil. It's not that I'm broke or anything... ::whistle::"
Ba'ar grins "The prestige that comes from being on.....'The Winning Team'....eh?"
Morticon grins, "Yes. We are one of the largest, longest-running groups on SpinDizzy. Save for those pesky wizards.
Ba'ar growls, "Now then....If you were made Spindizzy's king, what changes would you make?"
Morticon says, "Probably what I already described. Though in addition I would make it mandatory to serve in the SED military. You know.. see this world and others as you fight for evil! Anyone who dares stand in my way will be publically fruited! And most importantly, I would demand the respect that I deserve. That, and the maximum height would be 3.8 feet. Cye would need to be shrunk. BUahaha!"
Ba'ar growls, "Who do you admire the most? "
Morticon hhrrmmms.... "Is this a trick question?"
Ba'ar growls, "No...a straightforward question...though I do understand if you admire yourself the most."
Morticon says, "I do admire those who have foolishly stood in my way for years and years and for not giving up time after time... but in reality, only I am worthy of my own admiration. Who else is as intelligent, daring, attractive, physically fit, and luminant as myself?"
Morticon grins a winning smile.
Ba'ar growls, "Here's a trick question...if you weren't SED leader and jackanapes wallaby...what do you think you'd be doing to pass the time?"
Morticon says, "Exploring our huge world with friends. Go on little adventures. I wouldn't sit still even if I was 'unemployed'. Maybe I'd even try dating."
Ba'ar growls, "What secret fact or desire about you would surprise our readers?"
Morticon says, "That I'm just as three dimensional as everyone else. I too want love and affection, and that I'm not doing evil every waking moment of my life. A few of my actions could be considered, horrid as it sounds, charitable."
Ba'ar growls, "So you say some of your actions may be considered charitable. In what way?"
Morticon says, "Easy, dear Ba'ar... I occansionally do things without a direct reward for me. I've gone 'beyond the call of duty' a number of times. Hard to believe, but true."
Ba'ar growls, "Can you give some examples?"
Morticon says, "Helping to land the planet. I've saved a few lives.. and... even cleaned up after a few of my mistakes (I once overran Neopolis with zombies) when it wasn't nessecary. Juat the other day, I saved a poor (nonmorphic) fox's life... got him here and did emergency surgery. I'm even giving him a home."
Ba'ar nods "That's good...now then..one final question...Do you have any words of wisdom for our readers?
Morticon says, "Why, yes. It's a large world out there. And not all of it is as it seems. But use that fact to foil me, and I'll dig out your brain with a grapefruit spoon! ::smirk::"
Ba'ar growls, "That concludes our interview. Once again Morticon...Thanks."
Morticon smirks and nods, "Want to be my latest test subject?"
Morticon says, "I've got a lovely helmet to try on you..."
Ba'ar growls, "Even if it's a bike or skateboard helmet, I'm not interested."
Morticon hrrrfffs.
Morticon shows you out...