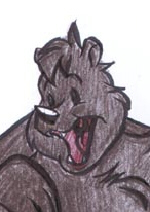 Welcome to latest edition of Bearing up, the advice column where Ba'ar (That" s me!) has answers to your most challenging questions.

Dear Bearing Up,
Why do they always say 'cats land on their feet'? I fell off a ladder last week and landed on my side! - Rum Tum Tugger

Dear Rum Tum Tugger,
Are you sure you're a cat? Every cat I know lands on his own feet.

Dear Bearing Up,
I like regular M&Ms but my friend like the ones with peanuts. He says I'm nutty, but he's the one eating the peanuts. Isn't the the one who's nutty?
- Mr. Peanut

Dear Mr. Peanut:
You're both nuts. Reese's Pieces are better.

Dear Bearing Up,
My favorite TV show has been cancelled. The station is playing a show about installing insulation now. This is terrible!
- Ed Sullivan

Dear Ed Sullivan:
Tape the show and send it in to the station. When they found out how boring their show is, they will change things.

Dear Bearing Up,
I'm nocturnal (active during the night) but my mate is diurnal (active during the day). What can we do?
- R. Serling

Dear R. Sterling:
Take Vivarin so you can be with him.

Dear Bearing Up:
A strong thunderstorm blew a tree down which hit my house. Now a family of squirrels has lost their home. Would it be proper to add the loss of their home to my insurance claim, or should I hope their insurance covers it?
- Argon

Dear Argon:
Actually you should sue the squirrels. It was their house that ruined yours.

Dear Bearing Up,
Which is better, Blue Bay salmon or Crater Lake salmon?
- Gordon

Dear Gordon:
Neither! Chocolate!

Remeber possums (to steal a term from Dame Edna, if you have any questions,please page mail me (Ba'ar) online or send mail to big_bear@operamail.com. Thanks.