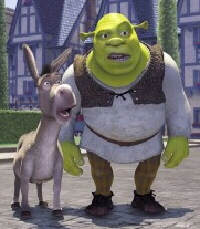 "Shrek 2" brings back Shrek (Mike Myers), Fiona (Cameron Diaz), Donkey (Eddie Murphy), and many of the hilarius supporting characters from the first film. Fiona and Shrek are returning from their honeymoon when her parents, the King (John Cleese) and Queen (Julie Andrews) of the Kingdom of Far Far Away command them to attend a royal ball. They're the ones who sent Fiona into exile in the first place, due to her annoying habit of turning into an ogre when the sun sets. Annoying to everyone but Shrek, of course.
Fiona's parents had expected Prince Charming (Rupert Everett) to rescue her and give her a kiss to break the curse and make her beautiful day and night. That plan fell through because Shrek rescued her first, but the King and Queen don't know that, and they don't know that the couple is married.
In addition to the royal couple and Prince Charming -- whose charm is questionable -- there are some other wonderful characters added to the mix.
Antonio Banderas is pretty funny as Puss In Boots, who is sent to kill Shrek, but instead becomes his staunch ally. Donkey becomes a little jealous and tells the cat, "I'm sorry, but the position of annoying talking animal has already been taken." A number of hairball and "licking oneself" jokes are tossed in for good measure.
Jennifer Saunders plays the Fairy Godmother, who is secretly the mother of Prince Charming. Not at all a "Disney" fairy godmother, this one is rotten to the core, and determined to replace Shrek with her toothy smiling son, no matter what the cost.
The Kingdom of Far Far Away looks like Hollywood, and there are dozens of cultural touchstones, such as the theme song to the old TV show "Rawhide" with new lyrics, and parodies of such movies as "The Matrix" and "Spider-Man." A Farbucks coffee shop makes an apperance. Also look for a bit with a picture taped to the ceiling above Fiona's girlhood bed. The stud in the photo, "Sir Justin," looks a lot like a certain Justin dating a certain actress who happens to provide Fiona's voice in this film.
One part of the film this reviewer enjoyed was the business with Don;ey changing into, "...a stallion, baby!" He becomes a hansome white steed whi is remarkably well animated.I can speak from experience that his movments re quite natural.
Like the first movie, a number of fairy tale characters are lampooned. Look for a mermaid with red hair who looks suspiciously similar to Ariel, a clock and candlestick as in Beauty and the Beast, and of course, Pinochio.
Although really funny, and able to stand on it's own, it's best to have seen the first Shrek film to enjoy Shrek 2 the most. Personally, I think the first was was funnier. None-the-less, it's well worth the $8.00 or so to see it.