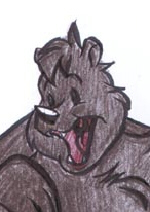 Welcome to latest edition of Bearing up, the advice column where Ba'ar (That" s me!) has answers to your most challenging questions.

Dear Bearing Up:
Who's smarter? Kenai or Koda?
- signed Rutt

Dear Rutt:
Neither. Your friendly neighborhood Ba'ar is smarter than both of them put together.

Dear Bearing Up:
It was reported in last week's @Action News that the blackouts last week were the result of a screw up in the power company. I've heard, however, that Morticon owns the local power company. Is that true?
- signed: Conspiracy

Dear Conspiracy:
Not at all. The local power company is owned by its stockholders. Morti doesn't own ANY of it.

Dear Bearing Up:
Is it true that they're going to use Fran Dreiser and Gilbert Gottfried in Iraq to root out the enemy?
- Signed irritant

Dear Irritant:
Our armed forces would love to but are afraid that Dresher's and Gottfried's voices for use in torture are in violation of the Geneva convention for being cruel and unusual punishment.

Dear Bearing Up:
Is Patch O' Black's Jellicle magic harmful? signed:
-Black Magic

Dear Black Magic:
No! Patchy's magic makes you feel good. What harm could there be in that?

Dear Bearing Up:
What do you think of 'reality TV'?
- The Swan

Dear Swan:
I think the term's an oxymoron.

Dear Bearing Up:
Is it true that Winnie The Pooh is really a Bear of Little Brain?
- Signed M. Snerd

Dear M. Snerd:
No! That's a myth! Pooh Bear is actually a very smart bear with Ph.D.s from several of the world's most prominent universities.

Dear Bearing Up:
I'm a showvixen at a major Vegas casino. I've been there a while and am well liked and well respected by my peers. However my understudy, a stout, pugnacious performer named Vixie is always on my back trying to steal the spotlight from me. I've tried to chase her away but it keeps on getting worse. What can I do about this?
- Signed Scarlett

Dear Scarlett:
Have her audition for the local production of The Cunning Little Vixen.

Dear Bearing Up:
Simon from American Idol is so annoying! What do you suggest we do with him?
- Signed Irritated

Dear Irritated:
Put him in the ring with Weakest Link's Anne Robinson and let them have at it.

Remember possums (to steal a term from Dame Edna, if you have any questions,please page mail me (Ba'ar) online or send mail to big_bear@operamail.com. Thanks.