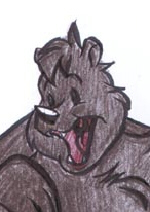 Welcome to latest edition of Bearing up, the advice column where Ba'ar (That's me!) has answers to your most challenging questions.
Dear Bearing Up:
Why did Jiffy get 666 as a connect number? That's neat. How can I get one?
Signed, A curious fur.
Dear Curious Fur:
It's simple, he sold his soul to the devil. Sell yours to the devil and you'll get one as well.
Dear Bearing Up:
Can I ask you a question?
Curious Cougar
Dear Curious:
You just did.
Dear Bearing Up:
Why can't we put all the bears on one iceberg and sink it?
Evil Wallaby
Dear Evil Wallaby:
Because then the world would be UNBEARABLE, that's why.
Dear Bearing Up,
My room mate is a louse. She never does any dishes, she leaves the bathroom a mess, and always pays her rent late. What should I do?
Sick and Tired.
Dear Sick and Tired:
Kick her out. Your house will then be de-louse-d.
Dear Bearing Up:
My back hurts, but being a centaur I can't find a big enough heating pad. What should I do?
Argon
Dear Argon:
My best recommendation is for you to sew a few horse blankets together and put them into the dryer for an hour or two. That will provide the perfect heating pad for you.
Dear Bearing Up,
Which is the better surround sound system, Dolby or Pro Logic?
Nipper
Dear Nipper:
Neither, THX.
Dear Bearing Up:
What's the deal with the tomatoes in Big O?
R. Roger Smith
Dear R. Roger Smith:
What's the deal with you having too much time on your hands?
Remember possums (to steal a term from Dame Edna ;-D), if you have any questions,please page mail me (Ba'ar) online or send mail to big_bear@operamail.com. Thanks.