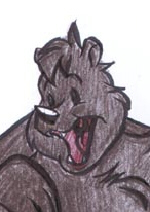 Welcome to latest edition of Bearing up, the advice column where Ba'ar (That's me!) has answers to your most challenging questions.
Yo Bearin' Up,
Me and the homeie's were vidding a song on TV an they had a bear doing the funky hokey pokey. He had da moves! How bout the 411 on him?
From, DJ Funkenstien
Dear DJ Funkenstein:
How about dat dictionary for Christ'ms sos you can talk clearer?
Dear Ba'ar,
Is it polite to wake a bear when he's hibernating to give him a Christmas present?
From, Claude
Dear Claude:
Sure it is, if it's the last thing you wish to do before a lengthy hospital stay.
Bear Dearing Up,
No idea what that means but it looked interesting when I mistyped it. Is Dr. Freud trying to tell me something?
Your Friend, Cye-co (Not the 50 foot one!)
Dear Cye-co:
Bearing up thinks you have too much time on your paws. Get a life.
Dear Bearing up,
The raccoons don't bother my garbage but the bears do. Raccoons aren't as big as bears, and when they tip over a garbage can it rarely ends up on the other side of the yard. What should I do?
from, Prince Albert
Dear Prince Albert:
Get some raccoon and bear proof cans. Than should take care of the problem.
Hey Ba'ar!
Just a note to say "Thanks!" for doing 'Bearing Up' each week. I always enjoy seeing what you'll have to say about some of the stuff folks write about. Keep up the good work!
Argon
Dear Argon. Thank you very much. It's comments like yours that make it worthwhile to write the column.