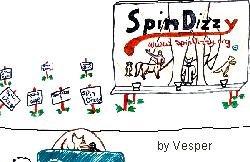 After asking around, I thought I'd report my impressions on this subject. To bring everyone up to speed. The meeting that was held last week was recorded, and the full log of the meeting is available. Below is an abbreviated summary I made of that log. Hopefully, I've included all the major ideas and points of view. There is more after the summary.
---
...or How to attract folks who "get it".
A generalised and condensed impression of what happened at the meeting with no guarantee of accuracy or authenticity posted here by Argon,
To start with the obvious, a meeting was held by those interested on Sunday, 10/26/2003 to discuss ideas concerning advertising the muck. Morticon, local evil wallaby but acting OOC as Wizstaff got the meeting going by saying, "Today's topic? Advertising Spindizzy. If you haven't already, type 'eventlist #show 2 #long' to see why we're discussing this. That would basically be my speech right there."
Morticon's announcement read, "Come one, come all as we have a meeting to discuss advertising Spindizzy to others! As you may have noticed, our connected population count has remained nearly constant for quite a long time, and it'd be nice to attract potential newbies who are more in tune with our philosophy. What might help us (I think) is advertisements that target the group of people that we'd like to see here. It's been a number of years since the last big advertisement blitz.
Therefore, I'd like to hold a meeting (everyone's invited!) to discuss possible wordings for advertisements to be distributed, and just as important, where these advertisements should be distributed and who should do the distributing. Those who think advertising is a bad idea are also welcome to attend to give their view on the subject.
Please note this is a brainstorming session. The results of the meeting will be presented to the wizzes and they'll give the go-ahead and/or make any needed changes.
The meeting was attended by a large number of both SpinDizzy regulars, old-timers, and some new folks, all of which had ideas and opinions concerning the topic. Of special note was the fact that all of the active Wizstaff were on-line at the same time, and at the meeting.
Morti started by mentioning Argon's suggestion that the SpinDizzy Website might have a special page or section that recruits to the muck could be pointed to. It could have pictures, maybe a link to the newspaper, and perhaps "testimonials" from current players. They could describe what they like about SpinDizzy, what goes on here, and what the theme and character of the place is.
Some concern was shown that the website not be turned into brochureware, but to perhaps show SpinDizzy as a place where fun whimsical stuff happens, a little more detailed to one who doesn't know the place than the paper articles. To show people what SpinDizzy is like by showing examples of the people here and the things they do. It was suggested to take some of the best moments chronicled in the paper, and turn them into stories. Not just newspaper stories, but _real_ stories. To show that SpinDizzy is basically, a sort of storyland run by people with creative streaks.
Another idea was making a 'Welcome to Spindizzy' newspaper edition. Then we could point folks to that. Include articles focusing on 'why I came to Spindizzy' and take the chance to advertise what we're doing Say, organizations you've put together, RP summaries? It would be a chance to 1. Use the newspaper, which is often touted as a successful part of Spindizzy, and 2. Promote the concept of Spindizzy though the players themselves since they would contribute the content." BarterGarter suggested, "That's why I think trying to make some stories of SpinDizzy based on the newspaper articles would help. A literary story, as opposed to a journalistic one, would introduce characters and settings, and not just assume the reader knows about them."
Ping suggested that the main thing selling the muck is the muck. "I was just asked though, by my girlfriend, if there's a way to connect to the muck through the website... there may be programs out there that could lower the bar to people trying it out."
The discussion then turned to who it is we want to attract. The general concensus was that we aren't necessarily looking for experienced muckers, but we want to avoid "troublemakers".
Also, the group debated the idea of advertsing on line, thought website links, and at Cons. The general feeling was that this might cast "too broad a net", and bring in, for want of a better term, "undesireables". It was pretty much agreed upon that word of mouth was the best way to promote the muck. That way, one can decide if the "recruit" would "get" the idea of SpinDizzy, and tell him or her about the place, and either send them to the "Introduction Page" on the website, or have them connect directly.
Another issue talked about was what Guests experience when they first connect. Although there is usually some chatter going on in the Rose Garden, or maybe an "event", lots of times folks are idling, and it appears the place is boring. It was suggested that everyone put Guest, Guest1 and Guest2 on their watch for lists (Just enter wf Guest1 etc.) so when Guests connect, someone or maybe more will welcome them and be aware they are here so they have someone to talk to if things are slow. PatchO'Black also mentioned that if we are to try and recruit new folks to the muck, that we make it clear about our custom of requiring use of proper punctuation and capitalization.
One reason a lot of folks found TF&F, which is where many of SpinDizzy's regulars came from, was an advertising blitz by Austin on many other mucks. This again brought up the problem of casting too broad a net. Also discussed was whether we really need an increase in population. This was countered by noting that a little new blood can liven things up. Bringing in new ideas and ways of looking at things could make SpinDizzy more fun and exciting.
So, to (Hopefully) summarize;
We want to attract new folks who will "get" the theme and character of the muck
Pointing them to a webpage either based on the muck newspaper, or something else with fully described and characterized "Best of SpinDizzy" stories and pictures giving new folks a sense of what SpinDizzy is.
Not casting too broad a net, but individually inviting players we think will "fit in" and add new life and ideas to what we already have.
Keeping a look out for Guests, so they don't see everyone idling around and get that as a first impression of the muck.
Not try, nor expect to get more than five or ten additional players per night. Helpstaff and the Wizzes may be hardpressed to handle more than that.
If you are so inclined, read the full log of the meeting.
---
In several discussions after the meeting, I found that although some SpinDizzy residents feel we shouldn't advertise at all, many felt that we ought to engage in subtle, low key, "sharing" of the muck. The idea being to tell friends and associates we know already, who we feel will "get it" when it comes to the idea and theme of SpinDizzy.
One idea was to build a page on the SpinDizzy website that we can send folks to. Here they could get an idea of what SpinDizzy is, and they things that go on here. Ideas for what to put on this page have ranged from a.) "The Best of @Action News" stories, b.) taking some articles from the paper, and adding some explanation of who and what is involved in the stories. Sort of fluff them up a bit with information that a regular on SpinDizzy would take for granted. c.) Finally, the idea of a page that simply explains what SpinDizzy is, what we expect of our regulars and new residents, and, of course, the theme and character of SpinDizzy.
It was suggested that all three ideas could be incorporated. Perhaps starting with a simple "What is SpinDizzy", as described as c.) above, then link the fluffed up newspaper articles, and a page on how to connect and some simple explanations of how to speak and move around for folks who are new to mucking.
I suggest that those of you who are interested contact me, Argon, and we'll get together and see if we can come up with a plan for a "Welcome to SpinDizzy" page or pages. We can get some examples put together and let the Wizzes decide what they like best.
I think it is important, although not urgent, that we get new players to join us here. New ideas and ways of looking at things brought by new characters can keep SpinDizzy alive and vibrant. But I agree with those who suggest we extend invitations to SpinDizzy carefully.
I'm looking forward to hearing from those of you who are willing to assist in this project. Thanks!