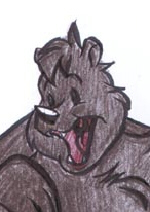 Welcome to latest edition of Bearing up, the advice column where Ba'ar (That's me!) has answers to your most challenging questions.
Dear Bearing Up:
What should I do if my house is infested with tribbles? Signed, Overrun.
Dear Overrun:
It's simple. Invite your local Klingon in to help you out. Klingons LOATHE tribbles so it won't be long before your Tribbles are gone.
Dear Bearing Up,
why do some animals have fur and others don't?
--Furcurious
Dear Furcurious:
The furried members of Spindizzy had ancestors that came from the colder climes, so they needed fur to keep them warm.
Dear Bearing Up,
I can't bear it! It's too much! How can anyone bear this? I'm ready to bare my soul about it, but I'm barely able to face it. What should I do?
Signed, W. T. Pooh
Dear W.T. Pooh,
I don't know how to help you, frankly, You don't list a specific problem, only that you consider it 'unbearable'. Please write back to me in more detail. Thanks.
Hey Mr. Bear.
How come bears like honey so much? Doesn't it hurt when the bees sting you?
Signed, Curious
Dear Curious:
We bears like honey so much because it's sweet and we have a TERRIBLE weakness for sweets (our girth proves this *ahem!*). Second, we bears have thick fur coats so the bees don't bother us.
Dear Bearng Up,
Hey! Where's my picnic basket?
Signed, Jellystone Park Tourist
Dear Jellystone Park Tourist:
Your picnic basket has been most likely stolen by the notorious basket bandit Yogi Bear. Your best thing to do is to go to Ranger Smith's office and report him at once.
Dear Bearing up,
What's that smell?
Signed, P. Lepue.
Dear P. Lepue.
Do you not smell the sweet smell of success when you smell it?
Remember possums (to steal a term from Dame Edna ;-D), if you have any questions, please page mail me (Ba'ar) online or send mail to big_bear@operamail.com. Thanks.