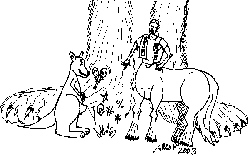 Jack, local Raccoon and technician of The Mechwarrior Lance (Alliance?), found himself looking up to other visitors to the Rose Garden Sunday night. After engaging Morticon, local wallaby and alledged leader of the SED (Society of Evil Doers) in a battle of wits and skill, he found himself being defeated.
After several exchanges of lightning bolts and witty reparte, Morticon, in his usual style of battle, ordered his minion, Lilahfae, local Pixie 'Puss-in-Boots', to use her shrinking dust on the raccoon. The experience of many battles and strange weapons, Jack was unready for shrinking dust that followed him as he retreated from the Rose Garden. AS he returned in an attempt to defeat Morticon, he was surprised to find his was very tiny! As one observer put it, "...about the size of an atom."
For some reason, Jack's cybernetic equipment failed to notify him of his change in stature, and he immeadiately attempted to stab Morticon with a sword, and then, realizing his size, set Morticon's foot on fire. Morticon's reponse, thinking the wisp of smoke was a cigarette, was to stomp it out. Jack luckily was able to beat a hasty retreat. to a park bench.
Observing Jack through a magnifying glass, Leowulf, local wolf-lion, observed that Jack was, "...really tiny!" This gave Argon, local centaur the idea that Jack could make a fortune writing people's names on grains of rice. When Argon asked Jack to do so, Jack replied, ""ARGHJ!! I GIVE UP."
Argon reminded Jack that his name was spelled A-r-g-o-n, and to give it another try. At that point, Jack caused a black skull to appear behind Lilahfae which rudely bit her wings off! Lilahfae using her magic caused them to return.
At this point, Jack retreated, seeing that he couldn't win the battle with the others 'closing ranks'. It would seem certain that as Lilafae's shrinking dust wears off, Jack will return to battle Morticon and the evil minions of the SED.