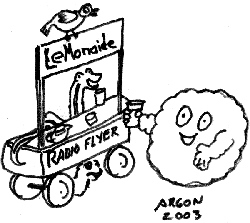 Last weekend, August 2nd and 3rd, the Rose Garden became the Chuck Jomes Elementary School playground as SpinDizzy residents enjoyed the Young at Heart Days event.
The playground was set up with a foursquare court, a baseball diamond and a 'sit and spin' ride. There was also some see saws, a fountain, and some kid sized picnic tables. The Ancient Oak became an Oak Sapling, and it gave out healthy, kid friendly snacks. The legacy of the Rose Garden was maintained by the rose bushes in front of the fences that surrounded the playground.
Local residents got into the spirit of the event by looking and acting like little kids. Patch O'Black, local Jellicle cat and event organizer, became a cute little Jellicle kitten. Argon, local centaur changed his description and demeanor to reflect being a centaur kid of about six. Butterfluff, local fluff, became a smaller fluff, and Austin, local coati, looked like a coati cub. Actually, he looked exactly the same, just smaller.
Some folks decided to remain 'grown up' and help to supervise the 'kids'. Findra, local bunny fae, was the school nurse for a while, but couldn't resist the call to become a kid for a while, and later was a cute little dolphin. She 'swam' though the air, much to the interests of the local cetan kids. Even Morticon, local wallaby and alledged leader of the SED (Society of Evil Doers) became a wallaby 'joey', and reflected himself as he was as a kid, before he turned evil!
Most everyone enjoyed the 'Young at Heart' event, but most are looking forward to returning to their adult lives. There was talk of having a 'Senior Citizen' weekend sometime in the future. Hopefully that'll happen before any of us are senior citizens.