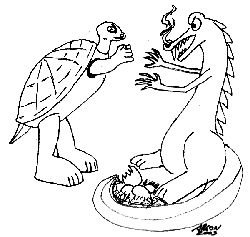 There is No Turtle
Yes, I have heard those tales of a great sea monster roaming beyond the edge of the sea… but they are all lies, every one of them! Each and every one of those pitiful stories is nothing but an adaptation from this story that I am about to tell you… the one true story of the largest turtle this world has ever known.
This creature was born before any other turtle, and yet was the father of no turtles. It roamed the seas well before any animal dared to abandon Mother Ocean and take its first steps on land. In fact, the Great Turtle was all alone in the sea; for it was said that he was Mother Ocean's first son.
This turtle had plenty to drink, but nothing to eat. For years… perhaps for millennia, it went without nourishment; and yet this creature continued to grow in size and strength. One day, the turtle became bold and ventured onto land in search of its first meal.
Nobody can say how long this search took, but I can say this: by the time the Great Turtle found his meal, he was no longer alone in the Universe. The turtle found something that tasted hard, rough, and nasty on the outside; but had a wonderful filling once he broke through the exterior.
The Great Turtle was only halfway done when he was interrupted by the Mother of All Dragons. Her roar shook the whole world, but the Great Turtle showed no fear while he loudly yet slowly spoke in response, "I found this food first. Go find your own meal."
The Dragon, as you might imagine, was not about to let the slayer of her first offspring consume the remaining dragon eggs. Their fight was so fierce that the dragon's cave was torn from the world and hung in the heavens. Even till this day it continues to roam the sky during the night as our moon.
Both monsters were only one blow from death when the sea monster began to lose heart. He growled, and then glared at the dragon before finally beginning to whimper. The Great Turtle mumbled, perhaps to the dragon or maybe to itself, "No meal is worth this," before finally leaping from the moon and returning to the ocean.
But the Mother of All Dragons would not let the story end there. She flew after the sea monster and created a massive storm that consumed the world and boiled our oceans. She eventually caught up to the Great Turtle and gave the final blow that sent it into the ocean's depths forever.
So you see, all those stories about a giant turtle roaming the seas cannot be true, because the legendary monster is dead!