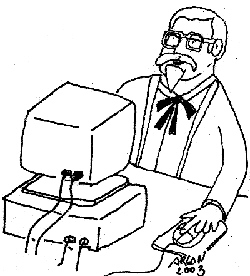 After receiving a number of e-mails with unusual subject lines, I, Rebecca Pattison, Private Eye decided that a mystery was afoot. In fact the first clue was a message that allowed the size of objects to gain "Three to Four Inches!" Further reading revealed that it was male Chickens whose size was being augmented.
Large Chickens would be very popular, so why was their existence only being divulged through e-mail? Could this be a scam?
Another message informed that pictures of celebrities, including Britney Spears "Doing Things You'll Like!" indicated that the scam had spread to Hollywood. But why did they want to let Rebecca Pattison, private eye, in on the secret? Another email, indicating that 'Hot Women' wanted her to plunge deep into a very warm, moist area, seemed an invitation to investigate.
The next message had a clue, "Cum." If only I had paid more attention to my Latin teacher instead of hitting Greg Daniels up for the time every five minutes. If only I had taken one less shot of bourbon and put one more shot into that rat with the knife. Life is full of "ifs".
The messages claim that those involved with the scam are hot, but all of my leads turn up cold. Could this be a numbers racket? Then it hit me, one of their messages said that Janet made use of 12 of the giant male roosters all at once! They say I can find her at a special website. She must be somebody I know, otherwise they wouldn't be asking for my help in finding her. And I can bet counterfeit dollars to stale donuts that there's nothing in this for me except for a trip to the pier wearing gravity enhancers.
It was some ignorant Yahoo! that tipped me off. The girl of my dreams is only a click away! If I joined their club, I could see more. I pulled my .44 and the stool pigeon at JupiterClubCasino.com sang all about my Janet. But to him she was Amber, a willing young secretary, or maybe a lonely housewife, and then he got to my favorite verse. She has a video, the one I supposedly said I was looking for.
Suddenly their messages became more urgent, their offers more lucrative, their threats (should I break the chain) more bone chillingly insane. But I had what I needed. The tape was only a password away. Soon I'd know the secret to having larger drumsticks, and access to many women who would eat chicken any time or place I desired. Many who had apparently used the augmentation process on their own poultry to increase the size of their breasts.
Obscene red stars were everywhere, hiding that which I sought. I was at the right place, its a shame my wallet wasn't. I needed Benjamin Franklin's commitment to see Janet but he wasn't at home.
Then I began to wonder if the roosters were a bunch of cock and bull. I followed the right hunch. They were all there crowing loudly about their size, along with with some young stud. It all centered around one place. A farm as unassuming as any other. But even the animals here had dirty secrets. The horses possessed the largest chickens of them all.
And when the trail leads to horses I always wind up at the track. Just as I expected they were earning 12% interest but mine had gone up to 100%.
At this point I began understanding more Italian than I picked up in all my years chasing dames in Ferraris. It was the furry mafia pulling all the strings. All it took was a couple suggestions to the media and the organization scattered, its corrupt power corrupted. I booked a cheap fare to a little island somewhere warm, pocketed the spoils of victory that the black-and-white overlooked and decided to spend the rest of my days chasing gals who liked their drumsticks regular sized, and where there was less room to run.
This is an edited version of Furi's story. For a copy of the original, contact Furi on SpinDizzy. Ed.