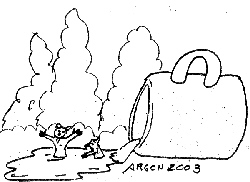 A sudden flood of what appeared to be mud left two families homeless today.
Early Wednesday morning, two Ferrets and an Opposum sounded the alarm as a tidal wave of thick brown fluid with huge marshmallows roared upon the N. W. quadrant of Suburban SpinDizzy. Witnesses described the tidal wave as, '..a tidal wave!" and quickly climbed trees and ran for cover. The thick fluid washed over the neighborhood quickly, carrying anything that wasn't nailed down, which was most everything as Ferrets and Opposums don't have the thumbs to use hammers.
After the wave died down, and the damage was being assessed, disaster experts surveyed the scene and found the fluid to be hot chocolate. The experts traced the path of the flood, as victims busied themselves licking hot chocolate off of their homes, belongings, and each other.
The path of the flood was traced to a very large tree, where Cye, local 50 foot Vixen was found gathering a spilled coffee cup. After cleaning up the spillage, she asked the authorities what all the fuss was about. As they explained the problem, Cye offered her apologies and reminded them that she had warned folks about building down the hill from her tree for that very reason.
The effected residents recalled the warning, but were still hot! However, as the chocolate cooled, they rethought their position, and as of press time, no legal action is pending or expected.