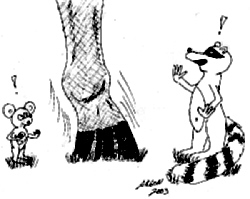 With the recent increase in folks who are somewhat larger than others visiting the Rose Garden, a few comments have been heard, some in jest, others not, concerning large feet or paws and smaller individuals. Warnings to "Watch where you step," and assurances that the larger folks aren't going to squish the smaller ones, promted Mavra to write the following.
It has often been asked of myself and others to 'watch our step' when around those smaller than ourselves, such as Flutterz and Morticon. While we take more care in the former than of the latter, there are still those who are nervous being around centaurs, thinking that myself and Argon, for example, may accidentally step on them. This is clearly not the case and I shall elucidate why this is so in this brief article.
We centaurs, simply put, have a high degree of what could be called 'body-sense', or 'kinesthetics'. We are very well in tune with ourselves and know just where 'all of us' are. This is especially important when you're talking to a being with six manipulative limbs, seven if you care to include the tail.
While this helps us out greatly, it's still only half of the picture, for while we know where *we* are, how can we tell where the position of others in relation to us are? Well, let me tell you that Argon's fuzzy little feathering around his hooves aren't all for show, anope. While being attractive and decorative to the extreme, those fuzzy little hairs can catch the slightest breeze brought up by either the wind or the dancing of your local Magical Jellicle Cat.
How can we centaurs tell the difference? Easy, just as first radio astronomers and later optical astronomers discover new astrophysical phenomena; interferometry. If the wind isn't blowing, then the motion of air around a particular hoof is a good indicator of a little fuzzy being nearby and unconsciously, we take care not to step in the direction of the disturbance. Likewise the same goes for the tail and all of its hairs.
Ok, some of you may still be unconvinced, especially when confronted by me, in all of my non-feathered glory, but that's also why centaurs have these things called 'ears'. Unless we consciously don't pay attention, subconsciously, we do and take note of all of the small rustlings that go on nearby and again take care not to place a hoof in the direction from where the noise is coming from.
So all-in-all, while our sense can be fooled by the machinations of others, centaurs are still quite sensitive and in tune with our environments. Rest assured, Morti, if we sit on you, no need to yell or scream... We know.