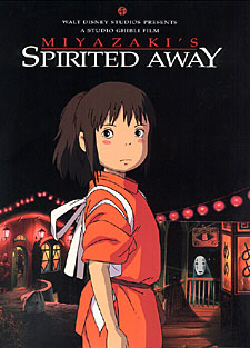 Spirited Away, is a beautiful movie. An animated film worthy of comparison to 'The Last Emperor'. Visually stunning, the art, color, music, and voice talent is superb.
As 10-year-old Chihiro and her parents embark on a trip to move to a new town, Dad takes a wrong turn and ends up lost. Ending up on more of a pathway through the woods than a road, they end up at a large gate. Against Chihiros's wishes, Dad and the family go through the gate and find themselves in what Dad thinks is an abandoned theme park. Ignoring Chihiro's warnings, she and her parents are seperated. This leaves Chihiro on her own with no idea what to do next, forced to depend on her own quick wits and positive attitude.
Chihiro finds herself having to find a way out of the 'theme park', which is actually something entirely different, save her parents, and help friends she makes along the way. A number of frightning and amazing events and people assist and delay Chihiro's quest, but the little girl bravely faces her fears to find her way home.
As Chihiro meets and matches each challenge, she becomes braver and more confident. She learns lessons about the power of love and friendship and the importance of knowing who you are.
The story by itself is interesting, but the amazingly beautiful art work, and almost roto-scope appearing natural movement of the characters make this film a joy to watch.
I was lucky enough to get the wide-screen DVD version, and was able to see it on large TV. I can only imagine what it would look like on an HDTV, and on the theatre screen it must have been breathtaking. The voice track was well dubbed, although I'd only give the sound and surround effects about a 7 out of 10.
None the less, I highly recommend this film. This is not your typical Japanese giant robot, Samuri, old west-modern anime, but a real work of genius. It's being distributed by Disney, so get a copy before they seal it away for their usual seven year cycle.