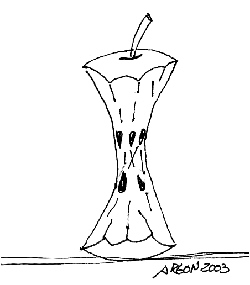 The film 'The Core'. Where to start? It's a veritable banquet of bad science, I should know. But even the most talented of artist should look past the crude beginnings and see... well, in this case, looking past the crude leaves crud.
While I had no intention of believing the film, quite the opposite in fact, for I had to jab my keys into my eyes to blind myself to the bad science in this film to make it bearable. Ok, the science was bad, I'll leave it at that with the parting shot of the alloy in the film being called 'Unobtanium', ha-ha, it should have instead been called 'Unbelievium'.
Ok, ignoring the bad science (80% of the film), leaves the acting, or lack thereof, and the special effects. The acting left me feeling as if there were no actors only animated props. The sets had more charisma to me than any of the actors. As a matter of fact, when the main cast got together, I was immediately planning out the 'flow-chart-of-doom', being which character will die when. I came pretty darn close to how it all happened; only switching two of them at the end. There was one great 'freak-out' scene by one of them, the only reason beyond the effects in the film that would be a reason to go see it.
The remaining element of the film that is noteworthy is the effects. They're pretty gosh-darn neat.
So, here's the summary of the plot, careful, there might be a spoiler. Bad things happen, it'll get worse. Plan to fix them, but it got worse quicker. Go fix problem, but bad things happen there too. Problems got fixed, people got FUBAR'd. The End.