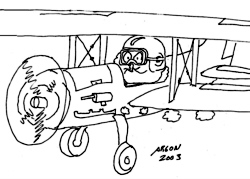 While I was in the shop, getting myself repaired, one of the cable channels ran a string of Mel Gibson movies.
One of these was Forever Young. Although technically science fiction, it had never caught my eye before. It almost escaped me this time -- until I saw the name Elijah Wood.
Mister Wood's most recent role of note is Mister Frodo Baggins of the Shire.
Ooh! Let's see if we can spot the hobbit.
Since I didn't remember how old the movie was, I was peering at every young man who spoke. I saw a number of hobbit types (in the older class, George Wendt). None were Frodo.
Until finally the movie reaches the 'present.'
A chunky ten year old, good hobbit material, but not Frodo. (Nor was he the movie Samwise -- I would have recognized Sean Astin's name before Elijah Wood's -- John Astin's kid.)
Then the second kid appeared. Oh, my. A ten year old human. Making him about a fifteen year old hobbit.
The boys befriend Mel Gibson's character, who is a pilot. Frodo and Sam...-- sorry. I never caught the other kid character's name. Frodo and Sam modern versions' eyes light up when Mel says 'airplanes' the way that the originals' did when 'elves' are mentioned. Picture Uncle Bilbo telling stories around the fire to young Frodo and young Sam.
My repair-room roommate thought I was insane, laughing at entirely inappropriate points in the film.