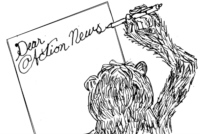 Dear Editor,
What is wrong with the people in this country? I wanted to go to FurCon and got dressed up in my Conan the Barbarian outfit so I could go right from the airport to the Con. Because I was only weating a loin cloth, I put on a long overcoat so that I wouldn't get cold. I had clothes in my baggage that I checked in to wear later. I wanted to make a grand entrance into the con.
I went to the security gate, and the detector went off. Dumb me, I forgot I had my knives, knumchucks, chains, and my $250 authenic middle age broadsword I got from eBay. It is authenic, so I don't know how I forgot that.
Well, the security people pulled me out of line and took me to this room and searched me up and down! I was quite insulted! Although the body cavity search was fun.
To make matters worse, they confiscated (stole) all my props, even though I explained why I had them. They didn't even care. And I was a day late to the con! As an American citizen I am insulted that I would be treated that way. They acted like I was a crazy terrorist! I will never fly American Airlines again!
Sincerly,
C. O'Brian
Dear C.
What are you, just plain stupid? Nothing wrong with going to a Con, but even an idiot knows to pack swords and knives in their luggage and not carry them through the metal detector while dressed as Conan the Barbarian.
I'm surprised the folks at FurCon even let you in.
Argon,
Editor, @Action News