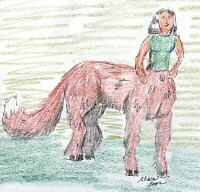 Friday night was a busy one for those working in the vast jungle that is known as the Spindizzy legal system. Mavra, local female centaur, brought an interesting case up to Adara, local female morphin cat/judge: Are centaurs considered furries or humans? With Gina_Doberman, local female canine puppet, as the bailiff, the court was now in session. The Prosecution went first. This team originally consisted of just Carlos, local male hydra, but then grew to include Mouser, local fursnake. Their stand on the situation was, "To pursue a proper classification for centaurs is to admit that the state thinks that such matters are of importance. The state of SpinDizzy has always considered humans and centaurs as equal in rights and duties. Why change that now?"
The defense team then continued. The team consisted originally of Mavra, but later included Ditzi, local male ringtail. Their stance was that centaurs are often discriminated against because some consider them non-furry, calling them names such as "pink-skin" and "horse-arsed humans". Mouser then objected, saying that centaurs needed to be classified as horses because they were needed for draft. Ditzi objected to that, saying that perhaps centaurs should be in a different class all together.
The judge said that she liked that idea, but that Mouser would have to join the prosecution and Ditzi would have to join the defense before she would listen to anymore from them. When all was settled, the case continued. The judge attempted to ask "What exactly is a furry?", but she received no clear answers, so she went on to the final remarks. Mavra's final remarks were as follows:
If it may please the court, if we centaurs are to be called animals, and ergo 'furry', then let us be so with all the received thereto. Same if we are considered humans, and all of the received that humans have."
Mouser gave the prosecution's remarks, much to Carlos's dismay:
"We urge Your Honor to classify centaurs as horses. Plowing season will be starting in a few months."
After a 1.34 minute break, the judge came back with the ruling:
"The underlying message in this case is: What exactly IS a furry? A person who has never been to a furry muck and has no experience with furrydom might say, "Something with fur, you [insert derogatory term here]. But, as seen on furry mucks, we know that is not the case. Many furry mucks are populated with creatures such as dragons, lizards, and centaurs. These animals do not have fur. Yet, these creatures (dragons, in particular) are EXTREMLY common on most furry MUCKS, and this judge has been to a lot of them. I rule that a furry is any fantastical, animalistic-type creature. Therefore and ergo, Centaurs ARE furries, and are not here just to draft. As a result of this hearing, the prosecution will have to pay $1,000 to the defense. On a minor note: there is a court charge for those who first brought up the case defendants, in this case). The cost is $999.99. This case is DISMISSED!"
Then, the defense team and the judge relaxed in a hot tub that had somehow mysteriously appeared in the middle of the courtroom.