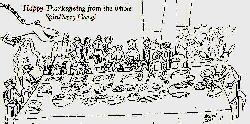 Thursday, which was Thanksgiving Day in the United States, was enjoyed by most SpinDizzy residents. Even those from outside of the U. S. seemed to get into the spirit of the thing, and had a good time.
Although a big meal and gathering with friends and relatives and being thankful for the good things one has in life are part of the Thanksgiving Day holiday, it doesn't have to be any particular day to do these things, particularly the part about being thankful that, at least, that our lives aren't worse.
As the weekly survey shows, SpinDizzy residents have many different things they are thankful for. One thing I think we can all agree that we are thankful for, is that we can meet and have fun on SpinDizzy. We can thank Findra, Austin, B.J, Skyler, Ping, and Peppermint, and all the players who make SpinDizzy what it is.
Every once in a while, someone will have a bad day and need someplace to vent their frustration or anger or disappointment. Or someone may want to tell friends about a great idea, or a happy event or accomplishment. We can be thankful, that among other reasons we have to be grateful, we have SpinDizzy, where we can be ourselves, and not have to apologize for it.
As far as food, and relatives, most everyone had large amounts of one or the other or both. The day after Thanksgiving Day was slow and relaxed, as those who wore belts loosened them, and prepared for the rest of the Holiday Season!