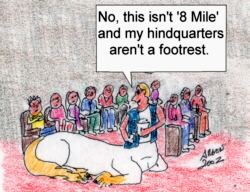 Friday night, I went to see the new Harry Potter movie. As usual with me being as big as a Horse, I lay down in the handicapped space. The sound there is usually bad, and tonight was no exception.
First, it's not as good as the first movie because there are no Centaurs in it. Ronan, who saved Harry from Voldemort in the first film, (And book) does not appear, nor is referred to. Although the same is true of the book, I was hoping maybe he'd make an appearance. John Cleese, as Nearly Headless Nick returns for a few scenes. Oh well.
Harry Potter (Daniel Radcliffe) is a Wizard, the son of Parents who used Magic. His parents were killed when he was a baby, so He grew up in the world of 'Muggles', people who don't use Magic. Living with his Aunt and Uncle, (Oliver Phelps and Julie Walters) his heritage was hidden from him. He eventually is invited to Hogwart's School of Witchcraft and Wizardry. If you need more information on Harry's history, read Harry Potter and the Sorcerer's Stone.
This film starts during the break between Harry's first and second years at Hogwart's. He is home with his very straight laced, 'no such thing as Magic' Aunt and Uncle. He gets a visit from Dobby, a CGI 'House Elf' (Voiced by Toby Jones) that is a great character. He takes far more abuse than he deserves (An issue which is addressed in later books.) and is a pivotal part of the story. Camparisons between Dobby and Jar Jar Binks are inevitable, but I'd take Dobby over Jar Jar any day. Anyway, Dobby warns Harry that he must not return to Hogwart's, that if he does he will not return. But because they want another 120 minutes of movie, Harry goes anyway.
He and his friend Ron Weasly (Rupert Grint) take a flying car ride and return to Hogwart's. There, we are reintroduced to Albus Dumbledore (Richard Harris in his last film performance.) and the rest of the faculty and staff of Hogwart's where Harry and his friends, Hermione Granger, (Emma Watson) who, due to a spell gone wrong is briefly seen as an Anthropomorphic Cat, are faced with Draco Malfoy (Tom Felton), Professor Severus Snape (Alan Rickman) and the new Professor of Dark Arts, Gilderoy Lockhart (Kenneth Branagh) All are involved in a search about and for The Chamber of Secrets. What's in the chamber? Well, you'll figure it out.
This film is a bit darker than the first, but there is a little more humor too. The John Williams Soundtrack is excellent and the special effects are outstanding. Because we don't get the background of everyone, it moves a little faster. A hint though, if you don't like Snakes, Spiders or Cornish Pixies, you might cringe at a few scenes. I'm not a fan of Snakes or Spiders, but their creepiness factor didn't overwhelm me. There is a nice cameo by a couple of Coatis in one scene, and Lemurs in another.
All in all it was a good film. Not a date movie unless your date has kids. Worth the price for the preview of Kangaroo Jack. Be sure and sit through the credits, there's a cute scene at the very end!