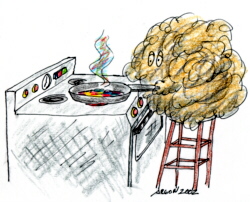 Eggs are quick, cheap, and have protein. If you have a cholesterol problem, maybe you had better skip this week's recipes.
General note: I cook with almost no salt, so add salt as you feel necessary.
Simple fried eggs.I highly recommend you get a non-stick pan. The eggs might still stick, but it will be much easier to clean off. If you find a truly non-stick pan, get me the brand name.
I don't usually have bacon around -- it spoils much faster than eggs do, so I buy them at the same time, and cook the bacon gone first. But you can always buy it and freeze it, either raw or cooked, in small batches.
Use a medium setting on your stove. Things burn too easily on high settings -- unlike water, eggs are not fluid enough to disperse the heat evenly.
Heat the pan with butter/margarine. I do not recommend normal cooking oil. Don't burn the butter, but make sure it is liquid.
I am a bit of a klutz, so I break the eggs into a bowl instead of the pan irectly -- that way I do not get my fingers singed getting the eggshells out.
The easiest eggs are a variety of scrambled. While they are in the bowl, add a bit of water, and stir them thoroughly with a fork, then pour them into the pan. Stir them around a bit, until they are cooked. Dish them up!
Sunny side up are my favorite. I slide the unbroken eggs into the pan, move the pan around enough that the butter gets on top of the whites, but the yolks are almost uncooked. This is not considered healthy by some people. Oh, well. I like to dunk bread into the yolks, too, once they are on my plate. My parents always hated me doing that. Tough.
Over easy is easier -- you are not trying to keep the yolks intact. Let the eggs mostly cook on the bottom, then flip them over. Squish carefully to break the yolks. Let it cook a short while (longer for over hard), then plate.
Over hard makes the best egg sandwiches.
Omelettes are closely related to scrambled eggs. First, assemble the ingredients. I like cheese, ham, mushrooms, salsa, green peppers, onions. If you use onions or green peppers, you want to cut them into tiny bits and cook them up before you put them in the omelette. The ham and the cheese should also be slightly warmed. Mushrooms can be cooked or raw as you like.
Other possibilities are sausages of various types (cooked and warmed), sprouts, cooked rice, cooked potatoes or other cooked vegetables. Almost anything you would put on a pizza can go into an omlette.
Beat the eggs with a bit of water until they are somewhat frothy. Pour the eggs into the pan, tilting the pan until the inside is coated.
Put in your fillings. I should only put them on one side of the pan, to make a prettier finished product, but I am greedy. Make sure the cheese does not touch the pan.
When the egg is mostly cooked, slide your spatula under one edge and lift it to cover one half of the omelette with the other.
Give it a minute or so to jell, then slide it onto a plate.
Potatoes in eggs deserve special mention. They increase the chance of sticking to a pan, but are filling. You can vary the taste by browning large chunks of pre-cooked potatoes ahead of time, or just add instant mashed potatoes to the egg mixture. They work especially well with onions and peppers.
If you use a large potato to egg ratio, you need to really watch for sticking.
Rice sticks like potatoes do. But it's a nice way to use up leftover rice from last night's Chinese take-out. (Make a egg-and-Chinese-vegetable mix, and you are on the way to Egg Foo Yung.)
Eggs do not generally work in a microwave, unless you scramble them really well. Then, you have to re-scramble them halfway through cooking. Potatoes mixed with eggs are fairly good microwaved.
Again, watch out - this stuff is not easy to get off the cookware.