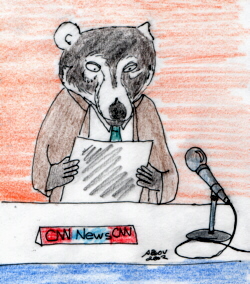 Over the past few months, the number of Coatis appearing on popular TV shows has increased quite a bit. Although their expected appearences on Zoboomafoo, the popular PBS kids television series have continued, they have been making more and more appearances on mainstream TV programs. The Coatis' manual dexterity, and his inherent acting ability, have made him a 'must have' in modern entertainment. With the advent of HDTV's need for specialised signal processing and tranmission equipment, including by not limited to Coati Cable, the verstitile Coati is nearly required to show HDTV's amazing resolution. Although rugular TV can show off it's capabilities just fine on a standard TV set, only a Coati can demonstrate the unique features and incredible resolution that HDTV can provide.
In light of this, many programs have begun featuring the Coati, in fact, resulting in a shortage of Coati talent. Some programs even have Coatis in starring roles. Just a few of these programs are, The Odd Coati, Scooby Coati, Coati News Network, Coati TV with Judge Wigglenose, Law and Order; Coati Intent, He-Coati, Coati-Ra, The Justice Coati, Coati Bravo, The Ed Coati Show, David Coatiman, Coati O'Brian, and Coati 54 Where are You? Coatitoon Network has a Coati as host. The friendly, amiable actors and actresses are being seen on every TV set in the nation.
Is this increase in the number of Coatis on TV a much delayed recognition of their formidable talents, or another 'Fad' that will soon pass away? Although many so called 'Animal Actors' have come and gone, Lassie, Rin Tin Tin, Mr. Ed, and Adam Sandler, only time, the viewing public and Neilson will tell.