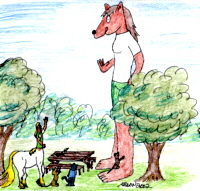 Cye, local 50 foot Vixen is back to her normal size after she and a group of like minded friends confronted Morticon, local Evil Wallaby and alledged leader of the Society Of Evil Doers (SED). As reported in last week's edition of @Action News, Morticon had used some sort of machinery to shrink Cye from her normal 50 foot tall size down to only 3.5 feet tall! Telling the folks at the Rose Garden that Sumanitu, Local Wolf, was in dire danger from the the wiley Wallaby, a group joined forces to save him. Upon arrival at the Control Tower, the Wolf, although wounded seemed to have Morticon at an impase, and with the arrival of reinfocements, found himself outnumbered.
Patch O'Black, local Jellicle Cat, bravely approached Morticon from the rear, as Argon, local Shiny Centaur distracted him with threats and discussion of state politics. As the Wallaby's attention was diverted, Patch announced his presence, allowing the Centaur to grab Morticon's 'ray gun'. As Argon fooled with the buttons on the gun, with the barrel of the weapon just happening to be pointed in the Wallaby's direction, Cye suggested that Morticon return her to normal size.
Mouser, local Fursnake and Morticon's Henchfur, who always seems to be around but seldomly involved in any of the SED's plots, attempted to escape, but was refrained from exiting by Argon's hoof on his tail. As Argon continued to fool with the buttons on the 'ray gun', Morticon agreed to fix the shring machine and with a twist of a knob, returned Cye to normal 'Cyez'.
As the Vigalantes...er, group celebrated Cye's return to normal, both Mouser and Morticon escaped. None the less, there was much gladness and happiness as Cye returned to the Rose Garden and her normal life as a 50 foot Vixen. As of press time, Sumanitu was recovering well from his wounds. Rumor has it that Morticon's injuries from the 'ray gun' battle will only effect him when he sits down.