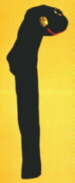 Mouser, local Sock-puppet, has solved the question of 'What happens to socks that turn up missing?' After appearing in the Rose Garden as a 'Sock-Mouser', a sock with two buttons sewn to it rather than his usual Fursnake form, it was obvious that the years of research done into the mystery of missing socks by the aptly named Bureau of Missing Socks has been looking in the wrong direction. Although their years of dedicated research have opened some interesting possibilities, Mouser has shown us that lost socks actually become Fursnake puppets, and crawl away to live in the wild.
Mouser, being somewhat floppy and static without someone's hand inside to animate him has found new opportunities at birthday parties, weddings, Bar Mitzva's and old black and white children shows produced in the early 1950's. Although not particularly intrigued with the idea of someone's hand inside him, he finds it prefereable to just laying on the ground.
Although Mouser's change into a sock puppet has yet to be explained, other sock puppets' creations have been explained on line. There is even a game here where you can search for virtual socks. Be warned, it's JavaScript. There is no estimation if and when Mouser may return to 'normal'.
UPDATE: As @Action News was going to press, what turns out to be the real Mouser turned up. He told of losing a sock, which it seems had been impersonating him all week. So, rather than Mouser being turned into a Sock-Mouser, Sock-Mouser was actually Mouser's sock. The question was, what had happened to Sock-Mouser now that Mouser was here?
An expedition was engaged by Morticon to find Sock-Mouser. Accompanying him on this quest were Alicia, local 9 Tailed Kitsune, Austin, local Elastic Coati, Argon, local Shiny Centaur, Umbra, local Wallaby, Slug, local Slug, and Mouser, local Fursnake. All were led by Morticon to the Laundramat near the abandoned shopping cart graveyard. Upon entering the Laundramat, Morticon encouraged us to look around. He was particularly keen on having folks go inside a certain washer. Suspecting a trap, no one was too anxious to be the first in, so Morticon went in first to prove it was safe.
Once in the washer, it turned out not to be a washer at all but The Chamber of Lost Socks. Inside, You find yourself atop a pile of warm, dry, socks. Mismatched socks. Not far up a wall is a white circle of light, the door of the washing machine through which you entered. The room wasn't dark, and everything could be seen. And none of the socks match. What was interesting was that even if you don't wear socks, one you lost was there.
Inside this Chamber was Sock-Mouser. For some reason, Morticon wanted to capture him, or Mouser did. The group who had fallen into the washer were on a number of different sides of this issue, some wanted to help Sock-Mouser get away, other's attempting to help Sock-Mouser escape, and others just observing. A tug of war ensued when Sumanitu grabbed Sock-Mouser, and Morticon attempted to wrest it from the Wolf's grasp. The suggestion that Morticon wanted Sock-Mouser because me might start a rock band and wants some 'enhancement' for his leather pants, made Sock Mouser struggle even harder. Morticon finally grabbed Sock-Mouser, but found himself surrounded by other sentient clothes. As the clothes encircled Morticon, a lot of clothes rustling and cursing was heard. As the cursing died away and the clothes fell back, Sock-Mouser had dissapeared!
After the loss, or victory of Sock-Mouser, the group found themselves exploring the pile of socks more closely and found that if you dug down into the big pile of socks, you'd pop out and find yourself in the Rose Garden. So keep your eyes open, you may be the next to see Sock-Mouser, who isn't Mouser!