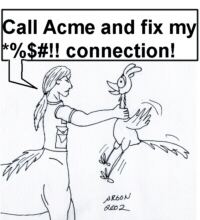 As has been observed by many, my Internet connection has been very poor this last week or so. After two 'service calls' from Time Warner's highly trained technical specialists to my home, I am still experiencing intermittent connectivity.
The first visit was from a nice young Vixen, who looked at the lights blinking on the modem, hooked a device up to the cable and proclaimed, 'Everything seems to be all right." When I reminded her that it was as intermittent connection, she reported that, 'They fixed a loose wire and that ought to take care of it." After asking me a few of the usual 'What's it like being a Centaur' questions, she left. within an hour, my connection began flipping off and on again.
I called Time Warner. Again. I intended show them why the word Customer starts with Cuss, but figured I'g get more cooperation with sugar than salt and politely explained that although the tech had done what she could, the problem had not been solved, and perhaps they needed to place a Senior Tech on the problem, as it was obviously something wrong further up the line. This statement was met with the usual, 'Well, we can send a tch out next month between the first and 15th.' I answered that a tech was just there and found everything at my house to be in good working order and the problem was obviously further up the line but this wasn't good enough, and they could have a tech out next week some time. I then invoked the most powerful curse available to me, 'Let me speak to your supervisor please.' I then again explained the problem and was assured that someone would be at my house between 8am and 11am. Because I work at night, the idea of getting up at 8am for a cable tech wasn't too inviting, but I figured I'd go along.
So, after getting up at 8am the next morning, the tech arrives at 10:30am. He was a young Skunk, who again, looked at the lights, hooked up his meter and told me, "Your connection is fine." After stepping back so I wouldn't deck him,snd he was a Skunk after all, I again explained it was an intermittent problem, and that it was further down the line. He assured me he'd check it out and left. Without a tip, I might add. He too asked the usual 'What's it like being a Centaur?' series of questions. In fact, he seemed more interested in my form than he did my problem. I refrained from commenting that Time Warner's tech support stunk.
Miraculously, the connection seemed to stabilize. For a while. Again, I called Time Warner tech support and was assured that a 'Senior Technical Supervisior' would be at my home the next morning. Bright and early at 10:00am, I answered my door and saw a Bear wearing a toolbelt and a smile. He asked where the computer was, looked at it a moment and said, "I'll be back in a few minutes. He went outside, hopped in his truck and drove off. As promised, he returned in a few minutes and reported, "I climbed the pole and found that the line to your house had been chewed by Squirrels. I repaired the damage. Your Internet connection should be fine now." And so far, he's been right. As an added bonus, my cable TV picture has improved too.
So it turns out that it wasn't the Roadrunner after all, but the Squirrels. And to think after feeding them, this is how they repay me. I sent Wile E. Coyote a letter suggesting he chase Squirrels rather than Roadrunners.