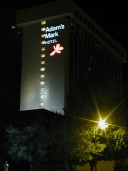 PHILADELPHIA -- Last weekend over 1600 people from far and wide with nothing better to do gathered at the Adam's Mark hotel for a few days of fun, socializing, spending money, and wandering aimlessly in a confused, barely conscious daze. The biggest Anthrocon to date, there were many things to do that I didn't do, and some nice guests of honour, one of whom I was actually familiar with this time.
SpinDizzy's [known] delegates to Anthrocon this year consisted of Boki, Seaweed and myself. Between raiding the convention suite and scouring the dealers' room for shiny new acquisitions, Boki and I occupied ourselves with taking lots of random photos that we'll look at once or twice then pack away never to be seen again, and plenty of wandering looking for people to bug. Going on only a few hours of sleep per morning, we managed to accomplish very much nothing, and eat a lot of snacks.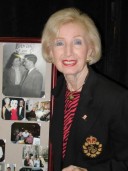 Josie DeCarlo, wife of the late Dan DeCarlo, and inspiration behind his "Josie and the Pussycats", was present again this year as one of the guests of honour. A very nice lady, she gave me her autograph and seemed to have a good time at the convention. Also guest of honour this year was a Heather something (though I may have gotten that name wrong) who it would seem is some sort of artsy-person, and appears to be quite good at it.
Breaking from widely accepted convention practices, this year the convention suite while consisting mostly of junk food, did not consist entirely of junk food. This year there were little sandwiches, chili, and possibly other things that I vaguely recall hearing about from somewhere, but can't say for sure.
Other items of note this year were Kage's mohawk, one marriage proposal, and only two rabies scares. Overall, a very fun convention for all, with very few incidents involving lost Klingons. Next year, if the charity auction reaches $20,000 Kage and Jim Groat promise to don grass skirts and coconuts and dance the hula. Something to look forward to next time.